Mardi Gras Day in Metairie - February 13, 2024
Mardi Gras day along the Metairie parade route has a strong family picnic atmosphere as the public eagerly awaits the parade. For many locals, Mardi Gras ranks as the favorite family holiday of the year with early memories of stretching for beads and stooping for doubloons while surrounded by friends and family.  The sights and sounds are indellibly etched into our memories.
The arrival of Argus kicks off a day-long procession of parades in Metairie with its procession followed by hundreds of trucks in the Elks Krewe of Jeffersonians and the Krewe of Jefferson truck parades.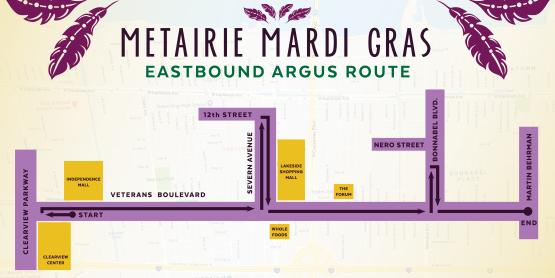 For more information, review the Parish Parade Safety Rules.
Members

Members dress at Copeland Tower.
Breakfast and Costuming will occur from 9:00 a.m. to 10:45 a.m. Riders will board charter buses beginning at 10:45 a.m.  Busses will leave Copeland Tower at 11:00 a.m. All costumes will be waiting in our designated dressing room at Copeland Tower. You may wish to bring rain gear, safety pins, sunscreen, snacks, etc.  
Please join our Royalty, Celebrities, and Captains as we second line out the door to our floats. The Members' Post Parade Party will be held at 818 Neighborhood Bar on Focis immediately following the Parade. Stay for plenty of Food and drink, provided by Copeland's Restaurant, and a chance to wind down. Please arrange to be picked up at the end of the parade or have a second vehicle there so that you can drive home.
All riders must follow all Parish regulations or face removal from the parade.
If you have any questions, please contact your Float Lieutenant.